September 13, 2017
М9.PLUS – data exchange center connecting with clouds
Moscow hosts Data Center-2017conference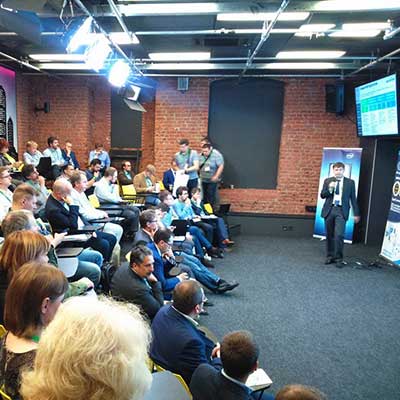 М9.PLUS – data exchange center connecting with clouds
The Digital October center in Moscow hosted the Data Center-2017 conference today for those who create, design and use data centers. The conference gathered over 200 people, including experts, opinion leaders, partners and data center clients. The participants discussed the development of cloud providers and whether it makes sense to use existing data centers or create new ones, and how SDN helps improve local network administration. High on the agenda was cyber security, development of cloud technologies and new client services.
Sergei Kiselyov, MSK-IX project development manager, attended the conference and spoke about the trend of corporate IT systems migration to the cloud and the methods of organising remote access to cloud apps and data. He emphasised the reliability and security of the network infrastructure when connecting companies' local branches via Internet eXchange.
"MSK-IX opportunities include organising data center channels, access to SaaS-providers, connection to network operators – all this with a common quality standard and operative support," said Sergei Kiselyov. "In our new data center M9.PLUS, we have combined a fail-safe data center and IX resources.We are sure that this approach perfectly meets today's companies' expectations."
M9.PLUS is a new data center that was launched in April 2017. It is based in Moscow in the MMTS-9 building, which is also home to the MSK-IX network and over 440 Russian operators. M9.PLUS provides direct access to MSK-IX services, offers end-to-end management of the network and engineering infrastructure, and ensures simple connection to service providers and IT services.