November 5, 2020
MSK-IX Peering Forum kicks off
The MSK-IX Peering Forum opened on November 5 with the first webinar devoted to the history of the internet and how it all began.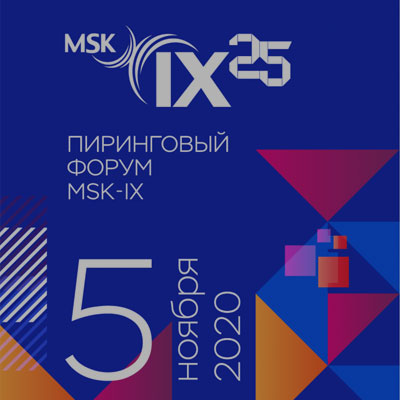 MSK-IX Peering Forum kicks off
MSK-IX General Director Yelena Voronina opened the forum. She said that this year MSK-IX turns 25 and that the Peering Forum has always been a platform for informal dialogue and discussion of industry issues. Market participants always look forward to getting together in person at the Peering Forum, but this year the pandemic interfered with their plans. On the bright side, the online forum allowed us to invite even more amazing speakers.
Then the floor went to RIPE NCC representatives: Marco Hogewoning, Manager for Public Policy and Internet Governance, and Maxim Burtikov, External Relations Officer (Eastern Europe and Central Asia). Marco spoke about the variety of internet protocols and how their use depends on the equipment. He explained how the internet has changed our lives, from everyday situations to industrial ones: "The internet develops initiatives from below, we, as users, can express our opinion, and I think the model of the future internet is based on these principles," he said. "When we do something for people, we do it for ourselves. Therefore, it is necessary to select the best solutions for the future community and everyone who uses the network."
The Peering Forum will continue with a series of webinars on Thursdays and will end on December 3 with an online conference. The forum will involve speakers from various industries: Mikhail Kader (leading information security consultant in Russia and the CIS, Cisco Systems), Mike Geller (Distinguished Cyber Security Architect, Radware), Andrei Ivanov (Head of Security Services, Yandex.Cloud), Eric Vyncke (IETF, Distinguished Engineer, Cisco), Andrei Robachevsky (Technology Program Director, Internet Society) and MSK-IX senior executives.