June 8, 2016
MSK-IX rolls out new projects at ENOG 11
ENOG 11 participants discussed IXPs on the Russian and global markets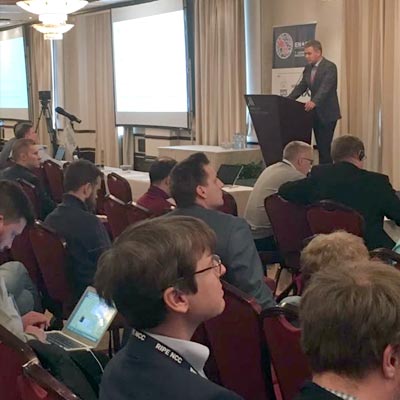 MSK-IX rolls out new projects at ENOG 11
The second day of the 11th Eurasia Network Operator's Group (ENOG) meeting featured a session on Internet exchange points (IXP). Participants discussed global IXP development. Representatives of 14 exchange points, including from France, Germany, Armenia and Bulgaria, Krasnodar, Ulyanovsk and other countries and cities, briefly presented their companies.
In his presentation, Thomas King from DE-CIX talked about the criteria for choosing an IXP from a customer's perspective. He said that customers should carefully monitor service quality, reliability of all the services and IXP stability. "Professional operations are what makes working with an IXP a positive experience," he pointed out, adding that when choosing an IXP a client primarily considers factors like quality, coverage and other technical specifications instead of focusing on the price.
MSK-IX Advisor Konstantin Chumachenko made a presentation on MSK-IX development strategy. He highlighted media logistics, a service for delivering video signals from TV stations to cable TV and OTT operators, as a new service. He also announced a new partner program for service providers to be launched by MSK-IX in the near future.
In his presentation, Mr Chumachenko also talked about the priorities of IX participants. "Most players think that saving on services provided by operators is a secondary issue, and focus on enhancing their operational efficacy. The growing popularity of OTT video and mass use of cloud services have reshaped the peering industry. MSK-IX is also changing in order to remain relevant in the developing digital economy."
MSK-IX launched a website in the run-up to ENOG 11 that offers even more insight into the company's services and projects by offering an improved navigation experience and adding new sections. It is now easier to submit an application or reach company representatives. The website now features a "Community" section with updates on MSK-IX news, events and projects. In addition, all users can now access the company's Knowledge Base, which features extensive and well-structured information on MSK-IX services. The new website is expected to enhance the customer experience and make it easier for the existing and potential clients to understand MSK-IX operations and services.