November 17, 2021
Grigory Kuzin advocates business diversification at MUSE-2021
The Medialogistika project by MSK-IX was actively involved in Multiservice (MUSE) 2021, the annual forum of telecoms operators and broadcasters held on November 10-13 in the Moscow Region.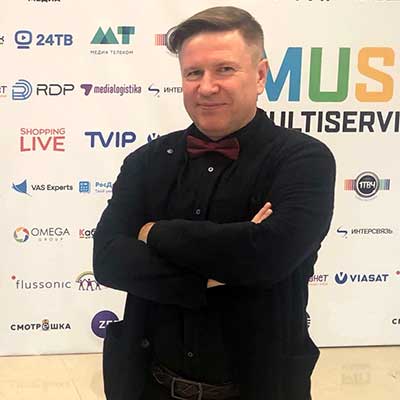 Grigory Kuzin advocates business diversification at MUSE-2021
The Multiservice forum is one of the biggest industry events valued for its extensive business program with topical and informative reports, discussions and workshops. Participants also appreciate the informal and comfortable environment for networking and fruitful communication.
The Medialogistika project by MSK-IX is a regular participant in this major event and is usually represented by a sizeable delegation. At the project's stand this year, all forum attendees had a chance to talk to Medialogistika specialists who offered in-depth consultations and exhaustive first-hand knowledge of the ground-based signal distribution platform.
Medialogistika Director Grigory Kuzin spoke during the business track of the forum. His report "Fusion of media and telecoms: media business overview" emphasized the importance of business diversification for developing telecommunications and media companies.
He offered MSK-IX as an example: founded 26 years ago, the company focused on a single line of business, the Internet Exchange service, for its first 20 years. In the past few years, however, it has changed its strategy and started using its infrastructure to develop other products and services, eventually becoming a multi-service platform comprising several products: the Internet exchange point, Medialogistika, Instanet and DNS. MSK-IX also has a data center and the Data Escrow service. All these new business areas have been powerful drivers for the company's core business.
"In response to constantly growing competition, diversification proves to be an essential development strategy for media and telecommunications companies. In addition to the core business, diversification creates new points of growth and sources of profit," Grigory Kuzin explained.